How to Improve Writing Skills in English
Writing skills are fundamental parts of the English language, among other skills (reading, listening, and speaking). Nowadays, many people are searching for a solution to improve their writing skills in English. Sometimes, many of us fail to improve our writing capability due to proper knowledge.
The question is, either will we find a solution or not as far as writing skills are concerned? We will get many ways to find an easy solution to improve writing skills in English. Today we'll discuss some methods by which you may find the best ideas to improve your writing skills in English. So without wasting time, let us discuss ten easy steps to improve writing capability quickly.
10 Easy Steps to Improve Writing Skills Easily
Follow these below ten easy and essential steps to improve your writing skills efficiently and accurately:
1. Emphasize Reading Skills
If you want to improve your writing capability, you should emphasize reading comprehensive articles or texts not only that you should enhance your reading proficiency too. Whenever you read an article or text, you will find many new ideas about the topic.
However, you may execute those ideas in your writing as a supplementary. You can follow individual writing patterns, making you a good and unique writer. Let us see how to improve the capability of reading comprehensive texts:
Read newspapers and magazines.

Try to understand each article carefully.

Focus on the writing pattern of the writer.

Improve vocabulary proficiency.

Try to generate new ideas.
Try to read everything accurately before leaving. It helps you to understand the articles better and better. You will also write similar articles more accurately when you know the articles correctly.
2. Reading Books
Do you love to read books? If the answer is negative, then please start reading books immediately. Without reading books, you cannot improve your writing skills properly. It will help if you read books by different writers that help you be a good writer.
Further, you will get much knowledge when you read different types of books by various writers, and you will get the key to being a unique writer. Let us see how to read books in proper ways:
Select a genre you are interested in.

Make a good routine.

Convert reading books as a habit.

Utilize your leisure to reading.

Choose some particular writers and try to resemble them.
3. Learn the Language Properly
Many people make the mistake of wanting to be a good writer, but they do not learn the language properly. When you want to be a writer of the second or English language, you must have enough knowledge about the particular language.
We have to memorize the unknown vocabulary more and more. However, when you read an article, you may note the unfamiliar vocabulary and remember those words. You will be a good writer for sure if you can acquire all the skills in English.
4. Try to Use Grammar Accurately
We tend to want to be a good writers but don't want to know grammar accurately. If you improve your writing skills, you should learn grammar more accurately. It may not be easy to enhance writing skills without knowing the grammar rules. Let's focus on basic English grammar. For example, sentences, parts of speech, the right form of verbs, articles, tense, etc.
Sometimes a little mistake changes the whole meaning of a sentence. For instance, if you wish to explain a sentence in the present tense but write past tense instead, then the sentence's meaning will be changed for no doubt. Try to practice essential grammar rules with examples that may help you write every sentence more accurately.
5. Utilize Your Leisure Time
Nowadays, we waste our time without any reason. Smartphone addiction is one of the main reasons to give up writing regularly. We do not want to utilize our leisure time properly. As a result, we can not improve our writing skills. Suppose sometimes you don't have anything to do, then you may start writing something. It can be any topic or incident. Your primary purpose is to improve your writing skills.
We may choose a topic and try to write some sentences when we don't have anything to do. We can utilize our leisure time and make ourselves good writers.
6. Improve Speaking Skills
Practicing your targeted language through spoken will help you make yourself a good writer. Many people face the problem when they learn their targeted language only because of spoken practice. A fluent speaker always gets a lot of ideas by speaking with different speakers. Let's try to improve your speaking skills.
Find a friend or a partner for speaking practice. Sometimes when you get a chance to start a conversation with him. Here you get two benefits: you can improve your speaking skills, and another is you can get many ideas from your friend. Later, it will be effortless to write something about the topic you choose for a conversation with your friend.
7. Improve Your Vocabulary
A writer needs to know more and more vocabulary. Many people face the same problem when they write something in English because they don't learn enough vocabulary in English. You can use a dictionary, and a dictionary may help you improve your vocabulary faster.
Let's make a routine only for improving vocabulary skills. Try to memorize at least 5-10 vocabulary with synonyms and antonyms a day. Try to put suitable synonyms and antonyms to your sentences when you write something. Synonyms and antonyms will help you to improve your writing skills quickly.
8. Focus on Your Spelling
Spelling plays a vital role in writing a paragraph correctly. A writer needs to spell accurately in a sentence. Wrong spelling can change the meaning of a word. For example, you intend to write 'night,' but subconsciously, you write 'knight' instead of night. The pronunciation of these words is very similar but different in meaning.
However, try to focus on your spelling whenever you wish to write something. It would help if you practiced more and more. Otherwise, it will be challenging to remember the exact spelling for every word. If you can write correct spelling, you will be a good writer for no doubt, and improve your writing skills quickly.
9. Straight on the Topic
Sometimes we move forward from the exact topic to another irrelevant incident, and this can decrease the readability of our writing. That's why we need to be straight on the topic and explain the selected topic elaborately with relevant information.
You can describe the topic in conversational ways, and it will help you connect with your audience more closely. For example, you may add examples of real-life situations in your writing.
10. Try to Use Simple Sentences
The purpose of your writing is to convey information to your readers. But if your readers fail to understand your sentences, will it make any sense? Absolutely not. Your sentences should be simple and easy to understand.
You have to remember that you need to reach your audience. Further, you should make sure that they can understand every sentence.
Sometimes we are getting scared of whether we will be able to improve our writing skills. In some cases, we become frustrated and give up writing, and unfortunately, it happens because of the lacking of confidence and consistency.
We need more patience to improve our writing skills. However, these ten easy ways will help you improve your writing skills in English easily and accurately. Just try to implement those steps in proper ways.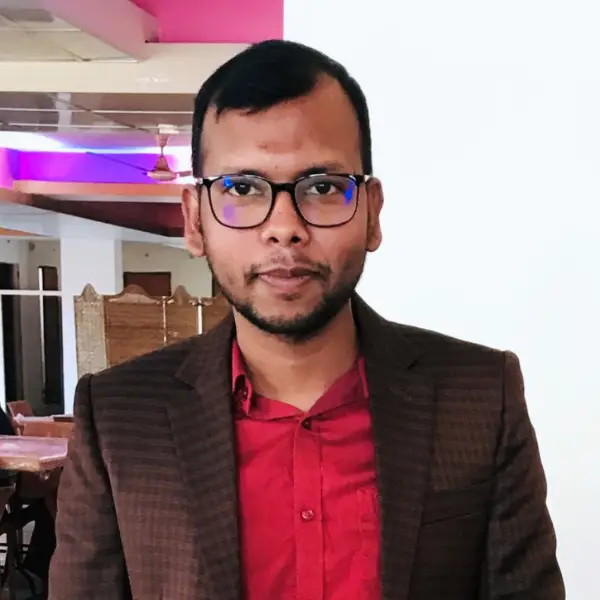 Azizul Hakim is the founder & CEO of englishfinders.com. He is a passionate writer, English instructor, and content creator. He has completed his graduation and post-graduation in English language and literature.